MERCHANDISE
Not just Sock Monkeys! RoRo Art also sells fun clothing, buttons, cards, hats & other art. Here is a little general information, but please contact us for more information!
Silk-Screened Shirts!
Our tee-shirts are heavy-weight pre-shrunk 100% cotton, in a wide choice of colours, and feature Robin's own illustrations of Sock Monkey Adventures! They are silk-screened by hand using quality inks. Contact us for information about sizes and availability. (Not every colour or image is available in every size. Ink colours may vary from one printing to another.) Tee-shirts are available in sizes from children's size 2, all the way up to men's XXXL! They are $30 Canadian.
(These are examples of the four different designs currently available:)
We also have a small selection of hoodies, sweatshirts and longsleeve tee's & tank tops available in youth & adult sizes, contact us to find out more. Prices vary.
New! We now have colourful baby Onezies, illustrated with the classic Canadian Work Sock Monkey! A good choice of colours, heavy-weight pre-shrunk 100% cotton, sizes newborn to 18 month (again, not every colour is available in every size) $25 Canadian.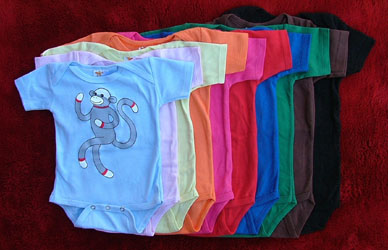 These pictures are just samples, please contact RoRo Art to check availability of design, colour and sizes.
Sewn-Sock Shirts!
Robin makes one of a kind tee-shirts by sewing a Sock Monkey or Sock Animal right onto the shirt using one actual sock! Every shirt's character is unique and full of personality & expression! They are extremely durable, using an applique technique on heavy-weight pre-shrunk 100% cotton. Tee-shirts are $70 each, long-sleeve tees are $75 and sweatshirts are $80. You can also have Robin apply a new character to a shirt you send her!
Contact Robin to custom order the Animal, size & colour of tee-shirt!
(These tee's are just examples. Each new shirt must be custom ordered:)
No deposit is required on a custom order. How long it takes to complete the order depends on a variety of factors including materials availability and any other orders being made at that time. Not every tee colour & size is available, so Robin will confirm details. Once the order is completed and the shipping location is confirmed with the customer, only then will payment be processed, and the item will be shipped upon confirmation of the payment.
Buttons!
Buttons (also known as pins) are available in 1 inch and 1 1/2 inch sizes and feature Robin's Sock Monkey illustrations, photographs of actual Sock Monkeys and Sock Animals, as well as other illustrations and pictures by Robin. $3 each, two buttons for $5, five buttons for $10. Colours and designs vary greatly! As usual, contact Robin for more information!
TO MAKE A PURCHASE
Please check the Showlist page to see if we will be at any arts & crafts shows coming up, or to arrange a visit to the Studio, or you can place an order by email or by phone, 416 971 6306.
TO ORDER ONLINE
If you wish to place an order for buttons or clothing, please contact us directly, and Robin can help you select the colours, sizes, images, and get you information for shipping.
Once the right item has chosen and shipping has been confirmed, payment will be processed, and the item shipped when payment is received. Thank you!
---
Refunds and returns are made at the discretion of (me) Robin. I guarantee the quality of my workmanship & products, and I will endeavor to provide as many colours & sizes as I can, but I do not have every thing in every size. Please do your best to order the right size, and if you would like to inquire about making an exchange, contact me in a timely fashion. Thank you!
Currently, we accept cash, cheque & credit card, and charge shipping according to address (it helps to include your postal code when inquiring). We use Canada Post Xpresspost, which includes a tracking number, but RoRo Art is not responsible for items lost or damaged in shipping. We are happy to ship anywhere in the world, just let us know where!